MLM Binary Plan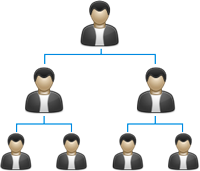 The Binary MLM Plan is a most popular plan among MLM companies, network marketers, part-timers and members who want to earn through MLM business. As the name indicates the plan is based on 2, that each member is allow to have only 2 members in the first level, which is known as business centres. but there is no limitations about the depth of the network that a distributor can build.
Binary plan is also called to be spillover, where upline members got profit from the product sales of down line members. It is a MLM compensation plan where two frontline members are permitted, and extra members get joining into the subsequent down line members.
MLM binary experts of the company will assist in creating Binary plan development. The company is geared up to serve the client with changing requirements, and pursue the modular loom to generate best binary software development. The Binary MLM software is a low cost system to set up through the help of our MLM Binary Software experts with exclusive coverage of all business aspects to deal with MLM network marketing.
Compensation in a Binary plan is based upon a formula dependent upon a certain value of sales in the Power Leg matching up with a certain value of sales in the Profit Leg.
Advantages of Binary Plan:
Here we are listing some advantages and features of Binary Plan MLM:
Binary Plan MLM is the most interesting Plan among all types of MLM plans because of many more payouts.
Binary Plan offer the greatest potential generational earnings depth, any of the four basic compensation plans in network marketing.
You really only need to concentrate on building one let of your business- your "Money Leg". The other leg of you downline matrix or "Power Leg" is usually being built by those in your organization that are above you, and more experienced that you.
Binary Plan is a MLM Plan which pays to infinite downline. That means that a member will be paid by downline, even if the downline are 15 level deep in your structure.